I have been reading a lot of blogs during my summer break. There are a lot of fun giveaways and linky parties. Here is one where bloggers share their favorite books: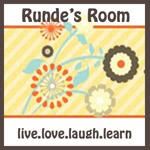 Click on her button above or the link:
Runde's Room
Here are my responses:
Childhood Favorites:
I know I loved reading Judy Bloom when I was in 5th grade! I also remember my school library had those " Little Miss ... " books that I would check out over and over again! LOL. I also loved this book:
I just loved the pictures that went with the story! It was one of my favs that I read over and over!
Classroom Favorites
: I love
The Rainbow Fish
and
A Fine, Fine School
. I have used them in grade 1 and grade 4 at the beginning of the year. I loved reading aloud Louis' Sachar's
Sideways Stories
series and
Walk Two Moons
by Sharon Creech. I also love Kevin Henkes books.
Professional Favorites: I always go back to The First Days of School by Wong.
Guilty Pleasure Favorites
: The Shopaholic Series, Debbie Macomber, Mary Higgins Clark are a few of my favorites!